Subaru Car Insurance
Get the best advice and offers with insureka!. It's time to use insurance that's #SimplySmarter.
Reasons why people switch to insureka!
99.5%
Customer Satisfaction Rating*
45%
Average Annual Savings*
800+
Extensive and trusted Garage network
Asuransi Mobil Subaru: Perlindungan yang Disesuaikan untuk Subaru Anda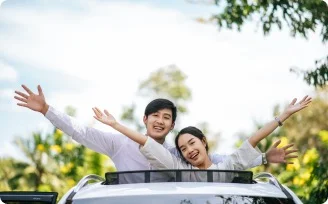 Pemilik Subaru, kami membantu Anda. Asuransi mobil Subaru kami memberikan perlindungan komprehensif untuk kendaraan Anda, baik Anda mengendarai Forester, Outback, atau Impreza. Dengan opsi pertanggungan yang disesuaikan dan harga bersaing, kami adalah penyedia asuransi pilihan bagi pemilik Subaru.
Special Protection for Subaru Models

Every Subaru model is unique, and so are their insurance needs. We offer customized protection options for each Subaru model to ensure optimal protection. Whether you're looking for comprehensive coverage, collision, or liability, we have a policy to fit your needs.
Subaru Forester SUV
Subaru Crosstrek SUV
Main Benefits of Subaru Car Insurance: Comprehensive Coverage for Your Subaru

Choosing the right auto insurance for your Subaru is an important decision. We offer a number of benefits designed to give your Subaru all-around protection and peace of mind for you. Here are the main benefits of our Subaru car insurance:

Customized Protection Options
We understand that each Subaru model has unique insurance needs. That's why we offer customized protection options for each model, ensuring your Subaru gets the protection it needs.

Hassle Free Claim Process
We strive to make our claim process as easy as possible. Our dedicated claims team is always on hand to guide you through the process and ensure a smooth and stress free experience.

Great Customer Service
Our commitment to exceptional customer service sets us apart. Our team is dedicated to providing personalized assistance, dealing with your concerns quickly and professionally.

Competitive Rates
With our Subaru auto insurance, you don't have to sacrifice quality for affordability. We offer competitive rates without compromising our comprehensive range of protection.
Enjoy peace of mind with comprehensive Subaru car insurance. With our customized coverage, hassle-free claims process, and outstanding customer service, you can focus on what really matters: enjoying the ride in your Subaru.
Survey Verification for Subaru Car Insurance

Subaru Car Insurance is committed to providing a seamless experience to all of our policyholders. To this end, we have simplified the policy survey verification process, ensuring it is quick, easy and hassle-free.
Our digital platform allows you to verify your policy with minimal effort. Customer Service is ready to guide you through the verification process step by step, allowing you to complete it in minutes. This simplified process saves you time and allows you to focus more on the road.
To start the policy survey verification process, login to your account on our platform. If you need assistance along the way, our dedicated customer service team is available to provide support.
Drive with peace of mind knowing that your Subaru is covered with a verified insurance policy. Verify your policy with Subaru Car Insurance today.
Stay connected! Call Subaru Car Insurance Now

At Subaru Car Insurance, we prioritize open and efficient communication with our customers. Our dedicated customer service team is available to answer your questions, guide you through our insurance policies, assist with claims, or provide support for any issues you may encounter. Contact us via hotline, email or via the contact form on our website. We are committed to providing timely responses and quality services to your utmost satisfaction.
Get Your Personal Subaru Car Insurance Quote Today!


Discover how affordable and comprehensive our Subaru Auto Insurance is. With just a few clicks, you can receive customized offers to suit your specific needs and budget. We consider various factors such as your Subaru model, its age, your driving history and more to offer you the most competitive prices.
Our goal is to provide you with protection that gives you peace of mind on the road. Whether you drive a sporty Subaru WRX, a family-friendly Forester or an adventurous Outback, our insurance policies are designed to give you the protection you need.
Getting a quote is simple and fast. Just enter your details into our online quote builder, and within minutes you'll have an estimate for your Subaru Car Insurance.
Ready to cover your Subaru? Get your personalized quote today and ride with confidence.
Car insurance articles & news