Honda car insurance
Get the best advice and offers with insureka!. It's time to use insurance that's #SimplySmarter.
Reasons why people switch to insureka!
99.5%
Customer Satisfaction Rating*
45%
Average Annual Savings*
800+
Extensive and trusted Garage network
Affordable Honda Car Insurance: Get the Best Coverage for Your Honda Vehicle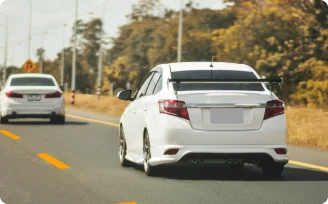 At insureka! , we Specialize in providing the most comprehensive and affordable Honda auto insurance policies for your specific needs. Our team of experts understand the unique features and performance of Honda vehicles , which allows us to create custom covers that ensure optimal protection at the best price.
Car Insurance for Honda Models
Honda Brio Hatchback
Honda Mobilio MPV
Honda WR-V SUV
Honda HR-V SUV
Honda BR-V SUV
Honda Jazz Hatchback
How to Choose the Right Honda Car Insurance Policy
Choosing the right policy for Honda auto insurance involves several important steps to ensure that you get the best coverage for your specific needs and budget. Here are some tips to help you make the right choice:

Evaluate Your Needs
Begin by evaluating your coverage requirements based on factors such as your driving habits, location, value of your Honda vehicle, and applicable state insurance regulations.

Compare Offers
Get quotes on various products to compare coverage options, policy limits, deductibles and premiums. Be sure to provide accurate information about your Honda vehicle and your driving history in order to receive the most accurate quote.

Understanding Protection Options:
Familiarize yourself with the different types of coverage available, such as comprehensive coverage, Total Loss Only (TLO). Determine which coverages are important for your specific needs.

Consider Additional Protection
Evaluate optional additional coverages such as roadside assistance, rental car replacement, gap insurance, and OEM parts coverage to enhance your policy and ensure optimal protection for your Honda vehicle.

Evaluating Deductibles (Own Risk)
Determine a deductible amount that you feel comfortable paying in the event of a claim. Keep in mind that higher deductibles generally result in lower premiums, but require a larger prepayment when filing a claim.

Review Policy Details
Carefully review the policy documents of your chosen Honda car insurance plan, paying close attention to the limits of coverage, exclusions and any additional terms and conditions.

Customer service
Consider the quality of customer service provided by the potential insurer, as this can greatly impact your experience during the claims process. Look for an insurance company with a responsive, knowledgeable, and helpful customer support team.

Periodic Policy Review
Regularly review your Honda auto insurance policy to ensure it continues to meet your coverage needs and budget. Renew your policy as necessary, such as after buying a new Honda vehicle, moving to a new location, or experiencing a significant life change.
Honda Car Insurance Claims Process
Accidents can be stressful, but filing a claim for your Honda car insurance doesn't have to be. Our step-by-step guide will walk you through the claims process, ensuring a smooth and hassle-free experience.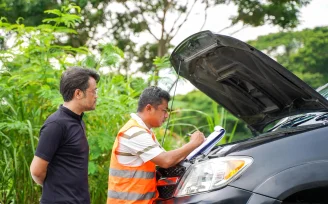 Following an accident or incident, prioritize the safety of all parties involved. Move your vehicle to a safe location, if possible, and contact emergency services if necessary. Once everyone is safe, gather the following information:
Contact details and insurance information of other parties involved
Witness contact information, if available
Photos of the accident scene, vehicle damage, and any other relevant details
A detailed description of the incident, including the date, time, and location
Reach out to your Honda car insurance provider as soon as possible after the incident. Many insurers have 24/7 claim reporting services available via phone or online. Provide the necessary details and information collected.
The claims adjuster will assess the damage to your Honda vehicle and provide a repair estimate. In some cases, the adjuster may visit your vehicle in person or request that you take it to an approved repair facility for inspection. Review the repair estimate and discuss any discrepancies with your claims adjuster.
Select a reputable repair facility for your Honda vehicle. Some insurers have preferred repair shops that offer guaranteed repairs, while others allow you to choose your own repair facility. If you have OEM parts coverage, ensure that the repair shop uses genuine Honda parts for repairs.
Once you have approved the repair estimate and selected a repair facility, the repair process can begin. Stay in contact with the repair facility and your claims adjuster to monitor the progress of the repairs.
When the repairs are complete, inspect your Honda vehicle to ensure that all repairs are satisfactory. If you have a deductible, you may be required to pay this amount directly to the repair facility. Once you are satisfied with the repairs, your insurance provider will handle the payment for the remaining repair costs.
After the repairs are complete and payment has been settled, your claim will be closed. Keep all documentation related to your claim for future reference.
Contact our Honda Car Insurance Experts
Our customer support representatives are available 24 hours a day.
Car insurance articles & news