Nissan Car Insurance
Get the best advice and offers with insureka!. It's time to use insurance that's #SimplySmarter.
Lihat alasan kenapa orang pindah ke insureka!
99.5%
Customer Satisfaction Rating*
45%
Average Annual Savings*
800+
Jaringan Bengkel yang luas dan terpercaya
Nissan Car Insurance: Protect Your Investment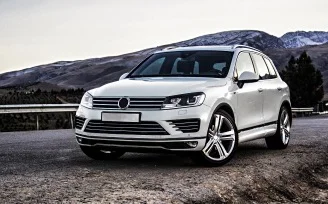 Your Nissan car is more than a vehicle, it's an investment. That is why it is important to have proper auto insurance coverage. Whether you own a Nissan Altima, Sentra, Rogue, or any other Nissan model, we've got you covered. Here's everything you need to know about Nissan auto insurance:
Comprehensive Coverage and Total Loss Only
Kami menawarkan perlindungan menyeluruh dan Total Loss Only (TLO) untuk mobil Nissan Anda. Perlidungan komprehensif melindungi mobil Anda dari kerusakan yang tidak disebabkan oleh kecelakaan, seperti pencurian, vandalisme, atau insiden terkait cuaca. Perlindungan TLO dirancang untuk melindungi Anda jika mobil Anda dianggap kerugian total oleh penyedia asuransi Anda.
Car Insurance for Nissan Models
When choosing a Nissan model, it's important to consider not only the sticker price but potential insurance costs as well. Insurance costs can vary widely depending on the model and safety features, so it's important to do some research.
When shopping for Nissan, be sure to get an insurance quote for the specific model you're interested in to get a better idea of your potential insurance costs.
Nissan Livina MPV
Nissan X-Trail SUV
Nissan Serena Minivan
Nissan Juke Hatchback 2 Door
Why Choose Us?
When you choose us for your Nissan auto insurance, rest assured that you are getting the best coverage at the best price. We offer competitive rates, flexible coverage options, and outstanding customer service. Our team is dedicated to providing you with the protection you need to keep your Nissan car running smoothly for years to come.
Tips for Lowering Your Nissan Car Insurance Premium
While car insurance is a necessary expense, there are ways to lower premiums and save money. Here are some tips:

Drive safely
The better your driving record, the lower your insurance premium will be.

Tingkatkan Nilai Resiko Sendiri (Deductible)
Deductible (Nilai Resiko Sendiri) yang lebih tinggi dapat menurunkan premi Anda, tetapi perlu diingat bahwa Anda akan bertanggung jawab untuk membayar jumlah itu sendiri jika Anda perlu mengajukan klaim.

Install security features
Many Nissan models come with advanced safety features, such as forward collision warning and automatic emergency braking. Installing this feature can make your car safer and lower your insurance premiums.
Factors Affecting Your Nissan Car Insurance Premium
Several factors can affect your Nissan car insurance premium, including:

Driving record
A clean driving record can lower your premiums, while a history of accidents or traffic violations can increase them.

Location
The state and city where you live can affect your insurance premiums. Areas with higher rates of accidents, theft, or vandalism tend to have higher premiums.

Nissan model type
Certain Nissan models may cost more to insure due to higher repair costs or the possibility of being stolen.
How to Choose the Right Nissan Car Insurance Policy
Choosing the right Nissan car insurance policy can be overwhelming, but there are a few things to consider to make the process easier:

Determine your coverage needs
Consider the level of protection you need based on your Nissan model, your driving habits and your budget.

Bandingkan polis dan tarif
Dapatkan penawaran dari beberapa penyedia asuransi dan bandingkan perlindungan dan tarif untuk menemukan polis terbaik untuk Anda.

Baca detail polis dengan cermat
Make sure you understand the terms and conditions of the policy before buying it.

Consider the reputation of the insurance provider
Check insurance company ratings and reviews to make sure they have a good reputation for customer service and claims handling.
Nissan Car Insurance Benefits
Having insurance for your Nissan car can provide several benefits and peace of mind in the event of an accident or unforeseen event. Here are some of the basic benefits of Nissan auto insurance:
Nissan Car Insurance Claim Process
In the event of an accident, it's important to know how to file a claim with your Nissan auto insurance provider. Here's what you need to do:
Start claiming through insureka! application or contact your insurance provider as soon as possible after the accident.
Provide the required information, including your policy number, details about the accident, and any relevant photos or documents.
Follow the instructions provided by your insurance provider to repair or replace your Nissan.
Pay all deductibles required by your policy
Contact Us for Nissan Car Insurance
Nissan auto insurance is essential to protect your investment and give you peace of mind on the road. With the right protection, you can enjoy your Nissan car with confidence, knowing you are protected in the event of an accident or unforeseen event. Contact us today to get a quote and buy your policy. Our team is ready to help you find coverage that fits your needs and budget.
Get Nissan Car Insurance Quotes Now
You can easily get a Nissan car insurance quote and rest easy knowing that you are financially protected in the event of an accident or unforeseen event. So what are you waiting for? Get a quote now and start driving with confidence.
Car insurance articles & news